SoftRock Living, as its name suggests, is heavily influenced by contemporary music culture, with its copywriting steeped in musical references down to its product names. It therefore brings us immense pleasure to interview Danny Loong, Chief Creative Director and co-founder of the Timbre group, as well as acclaimed musician in groundbreaking bands like UBlues and Raw Earth.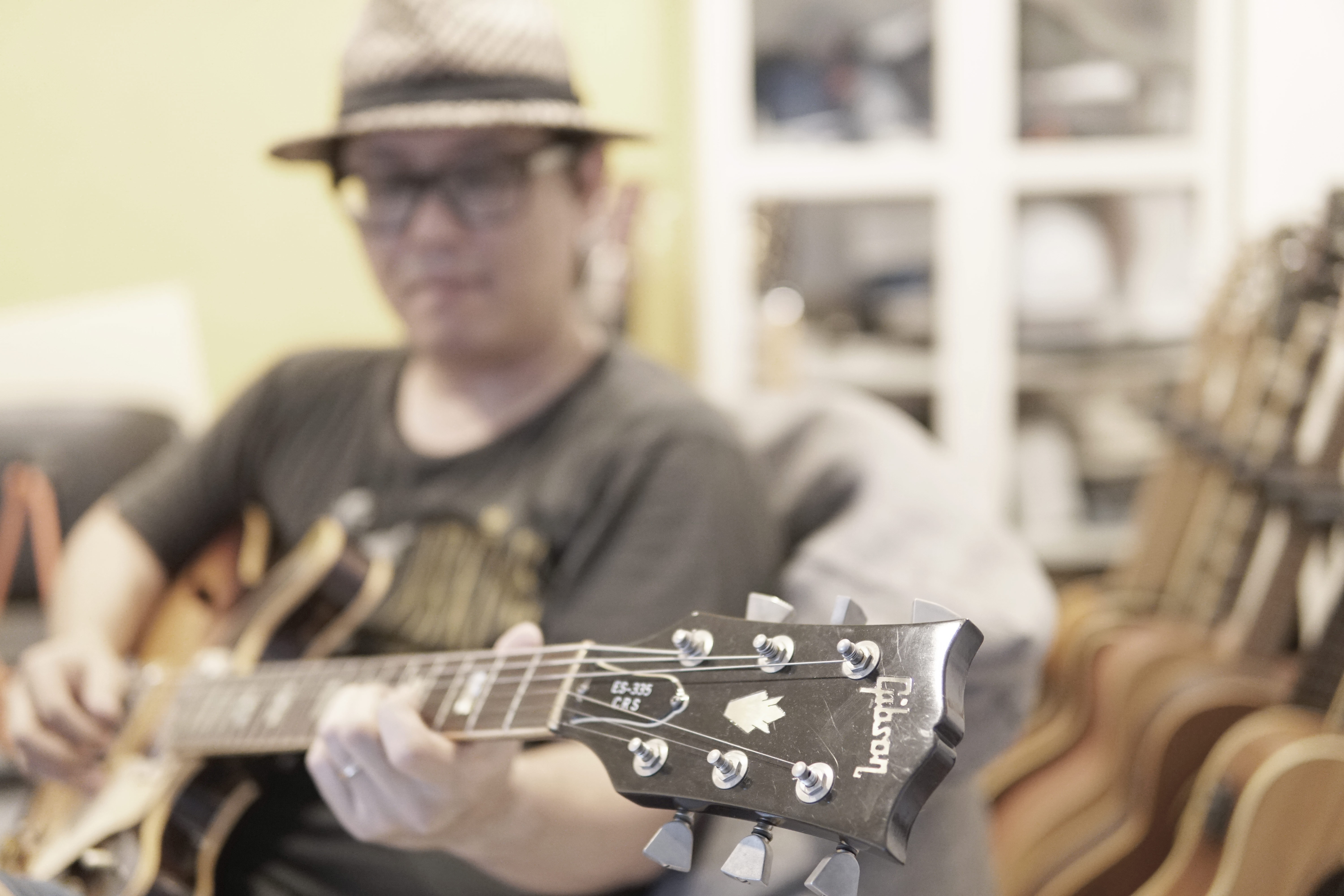 ---
Timbre needs no introduction, being in this writer's opinion, currently the most iconic chain of  live music venues in Singapore. Danny started the first venue with co-founder Edward Chia in 2005, at TheSubstation at Armenian Street, where it remains the flagship of the business, and branching out today to several other successful establishments in the country.
We sat down for a chat with Danny about his love for film, the evolution of the Singaporean audience and of course, what he loves about a SoftRock bean bag.
Apart from music, what other art forms do you appreciate or partake in?
Film has always been my first love. I actually studied to be a filmmaker in Perth, and I used to make my own short films. I feel my love for music and film are somewhat interlinked.
What filmmakers inspire you then?
Martin Scorsese. I also look towards role models within Asia. Ang Lee is very artistic, and Akira Kurosawa is amazing; Star Wars was hugely inspired by his work.
So if you weren't a musician or the co-founder of Timbre, would you be in the film industry?
Absolutely. I was actually in filmmaking before I formed UBlues. I made a short film about multiculturalism and racism in Perth, and how music brings people together. It was screened at the Spanish Film Market Festival and other festivals. In fact, in 1999 at the Bridgetown Blues Festival where it was first screened, was when I was introduced to Trevor [Jalla, bandmate of UBlues]. If UBlues didn't happen, I would have gone on to do my Masters, and might have ended up teaching, or else pursue filmmaking as a career.
Let's talk about your challenges when growing the pop live band scene in Singapore, and you certainly were a big part of its growth. What are/were the obstacles?
The whole idea behind Timbre, its social mission, is to be a home for Singapore musicians. This mission still stands today. A challenge throughout Timbre's growth is that Singaporeans have a long way to go in terms of how we respond and appreciate music. We have to be less self-conscious and more relaxed, to be more embracing and supportive of our local acts.
It is also no longer possible to have just live music and good food and expect to thrive. We are currently moving towards a trend where because of technology, more people are staying at home, eating at home and being entertained at home. We have to introduce other combinations, such as experiences, and create content to keep the energy going. We have to understand the times, adapt to the new technology and not be complacent.
What are some examples where you have adapted with the times? How do you stay ahead of your competition?
As we want to engage the younger audience to support our bands, we tap heavily into technology. First came the iPad ordering system; we were one of the first to implement this. The SMS dedication system in our Timbre outlets is another example, and in Timbre+, we have implemented an automated tray return system. We're always looking for new ideas.

We cannot limit ourselves to just music. We need to provide the best possible customer service and experience as well. We have an electronic  feedback system at our outlets to keep communication open with our customers. When customers write to us with a request, for example a wedding proposal, we will help them where we can.

In my opinion, the ones who remain focussed and yet are always refreshing, are the ones who will survive.
Tell us about your biggest musical influence as a musician.
One of my favourite guitar players is BB King. The first ever blues concert I attended was to watch BB King in 1992. Back then, I had to wait six hours just to get to meet him, and it was an amazing experience for me and I would go so far as to credit where I am now to that night. BB King's playing has been imitated by and inspired so many musicians, John Mayer to name one. We cannot forget these people, these legends are the reason why people pick up the guitar.
---
---
Finally, what do you like about SoftRock bean bags?
There is a unique flavour in your bean bags, from the colour, to the design. SoftRock gives a very modern take on bean bags, people value more unique things now, so you guys are going in the right direction. Of course without a doubt, SoftRock bean bags are comfortable too. I literally spend more time outside in my living room now, and my cats fight with me over my bean bags.

I lose, of course. They always end up giving me the puss-in-boots eyes!
Danny and his band Raw Earth will be performing a tribute to the legendary blues musician BB King at the Singapore Jazz Festival on 1 April 2017 at 4.30pm at the Main Stage. Raw Earth is a Singapore Blues and Roots band that was the only other Asian band to perform at the prestigious Byron Bay Blues Fest in 2016. The first being UBlues, whom Danny is also part of.
---
You can get tickets to catch Raw Earth and many other acts here.
Check out the various Timbre Group establishments as well as band line-ups here.